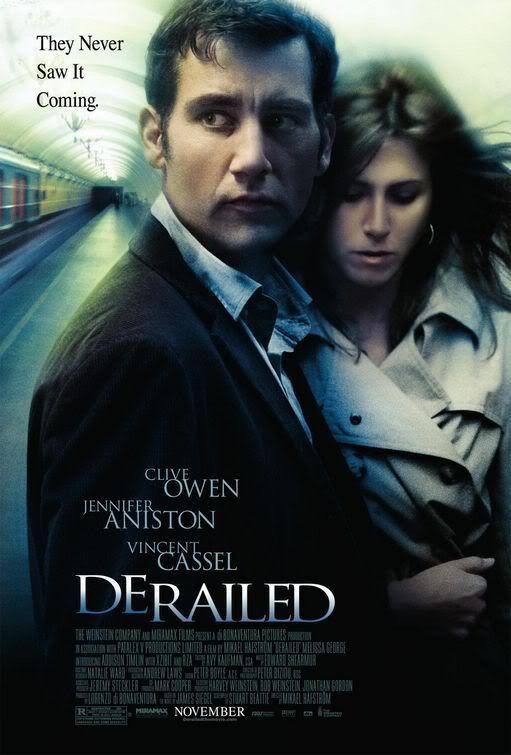 [it is CHICAGO]
Clive Owen: My suburban life is so boring. I have a really hot wife, and a smart kid, and a sweet bull terrier, but I'm just so - blah.
His Daughter: Dad! Help me with my book report! And my expository insulin, so everyone knows I'm diabetic!
[he gets on the TRAIN, but his WIFE took all his CASH, so he can't PAY for his TICKET]
Jennifer Aniston: Yes, I know that the whole train is staring at my legs, but I'll pay for your ticket.
Clive Owen: I will pay you back tomorrow. But I will never smile.
One of the Wu-Tang Clan: Yo! My man! I work in the mailroom and we talk about sports! I used to be in a gang or something!
Clive Owen: You are a good man, though you have braids in your hair.
[the NEXT day]
Clive Owen: Here's your money. I have a daughter with diabetes.
Jennifer Aniston: I also have a daughter. Now we have bonded over the fact that we both have daughters.
Clive Owen: Perhaps we should have sex, based on this bonding experience.
[they get in a CAB to get a ROOM]
Jennifer Aniston: No! I can't!
[she gets OUT of the CAB]
Cliver Owen: Look, a seedy hotel.
Jennifer Aniston: My mind is changed by your pointing at that hotel.
[they get a ROOM and start to BONE and a dude BUSTS in the DOOR and holds them at GUNPOINT and RAPES her and CLOCKS him]
Bad Guy from Ocean's Twelve: Mais oui! I have beat you up and now you are beholden to me!!
Jennifer Aniston: My husband will kill me if he finds out we had an affair! He'll keep my daughter from me!
Clive Owen: Fine. No police.
Bad Guy from OT: Give me $20,000!
Clive Owen: Okay.
Bad Guy from OT: Okay, now give me $100,000!!
Clive Owen: But that's the money my wife and I saved for a new experimental treatment for my daughter's diabetes!
Wu-Tang Dude: Look, I'ma scare this muthafucka for you, aight? I was in JAIL. I KNOW SHIT. Here's a shank I made in prison. You can have it. For luck.
[they go to the DOCKS or something and the Wu-Tang Dude ends up SHOT in the HEAD and it is SAD because he was NICE]
Clive Owen: Shiiiiiiiiiiit.
Bad Guy from OT: Where's my money? I have your girl here. Come to this condo and give me my money.
[he GOES to the CONDO and gives him the MONEY in a BRIEFCASE and it is TRAGIC because the MONEY is for his KID]
Detective: Somebody killed my friend, the Wu-Tang Dude.
Clive Owen: NOT ME!!!! I mean...not me. This guilt is too much. I'm going to confess. But I better check in with Jennifer Aniston first.
Receptionist: Sure, she's right there. [she points to a BLACK LADY]
Clive Owen: Shiiiiiiiiiiiiiiiiiiiiiiiit.
[he goes to the CONDO and it is VACANT and the picture of the DAUGHTER that Jennifer Aniston SHOWED him is on the FRONT of the RENTAL CATALOG]
Clive Owen: She used my parenthood to bamboozle me! This means war.
[he SEES he with the BAD GUY and they are MAKING OUT and it was ALL a SET-UP]
Clive Owen: Time for revenge.
[he CLOCKS the BAD GUY and then INTERRUPTS the CON and basically EVERYONE but
HIM ends up SHOT]
Clive Owen: I believe that's my briefcase.
[he gets his MONEY and you're like YEAH]
His Boss: You embezzled $10,000!
Clive Owen: I was going to pay it back!
[he gets COMMUNITY SERVICE, which means TEACHING in a PRISON]
Clive Owen: I'll just read this homework while you convicts...what's this? This story in this blue book is just like my story. Perhaps the bad dude is in this prison.
The Story: ...and when he finished reading, he went to the laundry room.
[he goes to the LAUNDRY ROOM]
Bad Guy from OT: Bonjour. I am still alive. You ended up at the wrong prison, mon ami.
Clive Owen: I chose this prison.*
[he STABS him with the SHIV and it is VERY SATISFYING]
Clive Owen: Honey? I'm home. And everything's cool.