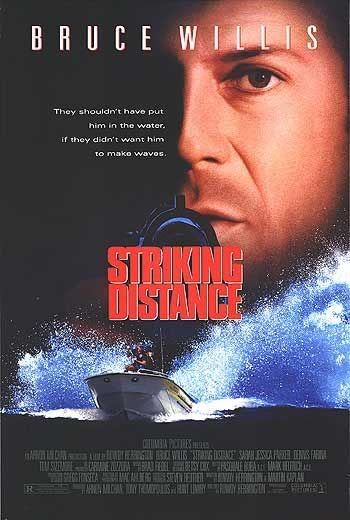 [it is 1991]
Bruce Willis:
Dad, I'm so happy we're cops together! It's too bad I testified against my cousin and partner in his police brutality trial and now everyone hates me.
Frasier's Dad:
It's okay, son, you did the right thing. Now, let's see if we can't catch this Polish Hill killer everyone's talking about.
[they go on a CAR CHASE, like, IMMEDIATELY, which ends with the dad getting KILLED]
Bruce Willis:
Noooooooo!!
Dennis Farina:
My nephew, it's okay. Even though you betrayed my son, your cousin, Robert Pastorelli, I still like you.
Tom Sizemore:
Me too!
[some RANDOM is ARRESTED for the POLISH HILL murders]
Bruce Willis:
This isn't right! I know it was a cop!
Dennis Farina:
Dude, everyone already hates you...don't make it worse.
Robert Pastorelli:
I'm going to kill myself by jumping off this bridge, since Pittsburgh has a lot of them!
[they TRY to stop him but he JUMPS and goes in the RIVER]
Bruce Willis:
What have I doooooooonnnnnnnnneeeeeeeee?????
[two years LATER]
Bruce Willis:
Now I am a river rescue cop, because everyone in homicide hates me. And a drunk.
That Redheaded Guy from

Thirtysomething

:
Willis!!!!
[he SHAKES his FIST]
Bruce Willis:
I'm going to continue to investigate my father's murder in an obsessive manner, because I play BY MY OWN RULES.
Sarah Jessica Parker:
You've got another think coming, since I'm your new, by-the-book partner!!
[they INVESTIGATE some shit and have a BOAT CHASE, after which they find some DEAD BODIES]
Bruce Willis:
Hmm. These new bodies look suspiciously like they might be victims of the killer I investigated two years ago. I wonder if it is the same guy. Also, all the victims are my ex-girlfriends. Huh.
Sarah Jessica Parker:
I'm sure it's just a coincidence. Now, since we will end up sleeping together eventually, let's just do it now.
[they DO]
Some Captain:
Bruce Willis is out of line! Again! Will he ever play a cop who plays by the rules!?!? Get him into an IA hearing.
[they DO, because SJP is an INTERNAL AFFAIRS cop assigned to INVESTIGATE him, but she COVERS for him because they BONED]
Bruce Willis:
I just gotta figure out my father's murder!!
Tom Sizemore:
I'll help you, since you are my cousin!
Dennis Farina:
Maybe you shouldn't. There's an old Italian saying: don't burn your mouth on another man's broth.*
Bruce Willis:
Well, there's an old Irish saying: never listen to old Italian sayings.*
[he CONTINUES to investigate]
Robert Pastorelli:
Hey! I'm not dead! And I captured your little girlfriend!
[he POTENTIALLY DIES, like, FIVE times but is NEVER ACTUALLY DEAD]
Bruce Willis:
Why won't you die?!?!?
Dennis Farina:
Wait! Don't kill him! Also, he is the killer from two years ago, and I killed your dad to protect my kid.
Bruce Willis:
Whaaaaaaaa?
[he KILLS everyone except SJP]