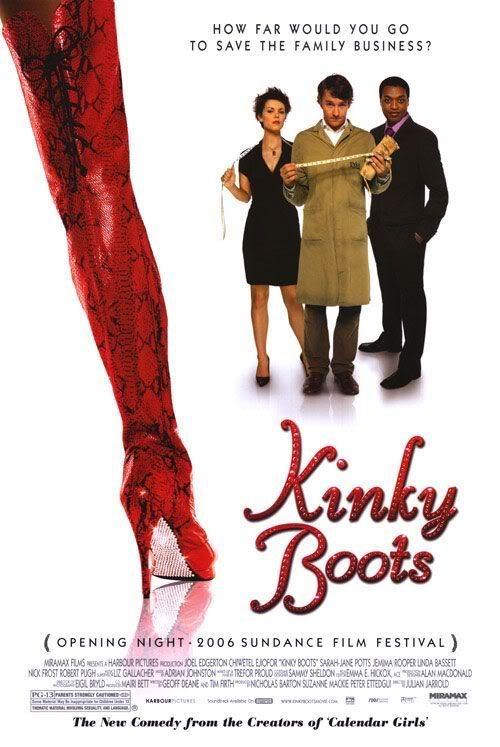 [it is NORTHERN ENGLAND]
Papa Price:
Son, this is my shoe factory. I love it so much!! I assume you will follow in my footsteps. I am placing all my hopes and dreams for the future of this company on you.
Charlie Price:
Uh...no thanks.
[he moves to LONDON with his MEAN GIRLFRIEND, but his dad DIES the DAY he moves there]
Charlie Price:
Bugger.
[he RETURNS to the FACTORY and finds out it is TOTALLY FAILING]
Charlie Price:
Sorry, guys...I have to lay off some people. I don't know what else to do.
Cute Pixie-Haired Worker Girl:
Figure out a niche market!!
[he goes to LONDON to try to SELL SHOES but CANNOT]
Charlie Price:
A woman in trouble! I shall prove my manliness by saving her.
[the DAMSEL turns out to be a TRANNY]
Black Guy From

Love Actually

Tranny:
I don't need your help, for I am actually a very muscular man, in drag. Damn! My heel has broken again! Why can't I find a well-made pair of kinky boots??
Charlie Price:
IDEA!!! I'll make you some boots that can hold a man's weight! I have a shoe factory!
[he and the PIXIE-HAIR GIRL make some SERIOUSLY UGLY BOOTS]
Tranny:
Burgundy. Please God, tell me I have not inspired something BURGUNDY.*
[she REDESIGNS the BOOTS so they are WALKING TUBES OF SEX]
Ed from

Shaun of the Dead
:
Hey there love, fancy a ---WHAAAA? You're a bloke!!
[there is a lot of MANLINESS talk and an ARM-WRESTLING CONTEST that the TRANNY should have WON, but DIDN'T]
Ed from

Shaun of the Dead
:
Now I respect you, because you let me win.
[the FACTORY WORKERS get TIRED of the PERFECTIONISM of the BOSS and QUIT]
Charlie Price:
You can't quit!! We have Milan!! I need you!!!
Bitchy Girlfriend:
Just sell the damn factory! I hate this town! Here are some more things I will say to make everyone happy when I dump you so you can end up with the cute pixie-hair girl!
Charlie Price:
No! I love my workers! They are awesome! And you're a bitch!
Ed from

Shaun of the Dead
:
I have also changed my mind about the boss after overhearing him. Let's work EVEN HARDER.
[they DO, and finish all the BOOTS, which have a POCKET for a WHIP in them]
Charlie Price:
Thanks for designing all the boots for me, Lola. But why do you wear a dress? Now, all of a sudden, I have decided to judge your lifestyle.
[she BOUNCES and he is left WITHOUT A MODEL for the Milan show]
Cute Pixie-Hair Girl:
I think there's really only one option here. You have to be very secure in your manhood, and on your feet, but I think you can do it.
[he goes on the RUNWAY with NO PANTS in the THIGH-HIGH BOOTS and TOTALLY FALLS]
Tranny:
It's okay. I'm here now. With my fucking awesome tranny backup singers.
[they perform a MEDLEY of SHOE-RELATED HITS]
Everyone:
I have learned something about society...and myself.