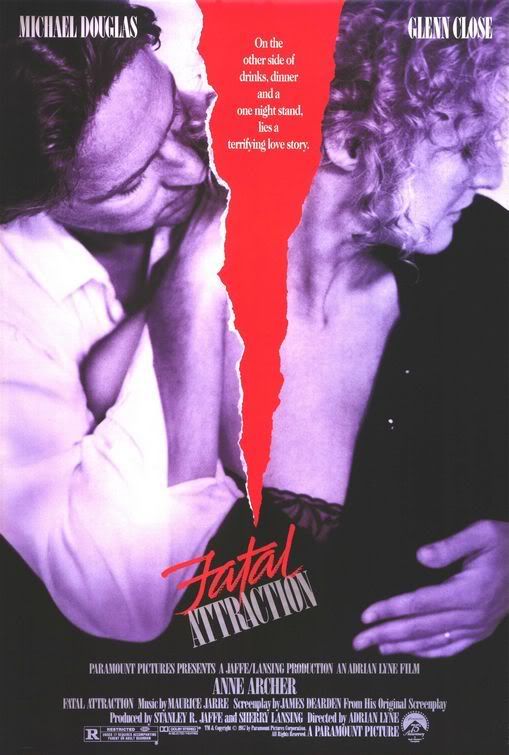 In the
starpulse.com
synopsis of this movie, it says: "[Glenn Close] conveys the buried feminist message of the film in her challenge to Dan to take responsibility for his sexual behavior." Buried feminist message? REALLY? The two main female characters are:
1. a woman whose
only
identity is "Dan's wife/mother of his child"
2. a crazy psycho stalker.
If there's a feminist message, it's down there below the Lost City of Atlantis, y'all.
~~~~~~~~~~~~~~
[it is the 1980s]
Michael Douglas:
In my house, we don't wear pants. Not me, not my hot wife Anne Archer, not my daughter who looks like a boy. No pants. Until we leave the house.
Jane Krakowski:
I'm here to babysit your child! I'll be famous later!
[they go to a PARTY for a JAPANESE EXERCISE BOOK]
Glenn Close:
YOUR FRIEND IS NOT ATTRACTIVE, BUT YOU ARE ATTRACTIVE.
Michael Douglas:
I'm married, but you'll soon see that that doesn't matter.
Anne Archer:
Bye, honey! I'm taking our androgynous child to the country!
Glenn Close:
WITH YOUR WIFE OUT OF THE PICTURE, I HAVE YOU ALL TO MYSELF.
Michael Douglas:
You shared your umbrella with me. In my book, that means you get to have sex with me.
[they BONE, though there has been NO INDICATION that Michael Douglas is a CHEATER]
Glenn Close:
LET'S HANG OUT. BRING YOUR DOG SO WE CAN FROLIC.
[they have a FUN-FILLED DAY and talk about MADAME BUTTERFLY, which is basically the LEAST OBTUSE PARALLEL EVER]
Michael Douglas:
Well, it's been fun. Thanks for the sex and spaghetti. Better get back to my wife.
Glenn Close:
NOOOOO!!
[she SLITS her WRISTS and you're like BITCH CRAZY]
Michael Douglas:
God. I might be a jerk, but I'm not THAT big a jerk.
[he STAYS, but only because she is INSANE]
Michael Douglas:
Okay. For real. I'm going. Don't try to contact me.
[she CALLS him at the OFFICE and at HOME and STALKS him ALL OVER]
Michael Douglas:
Get away from me! You're only good for one thing, even though the fact that you're a successful, seemingly independent woman! You're still just a whore!
Glenn Close:
I MIGHT BE A WHORE, BUT I'M A PREGNANT WHORE!! IT'S YOUR BABY!
Michael Douglas:
Shit.
[he RUNS AWAY to the COUNTRY, but she FINDS him]
Tina, my roommate:
This is boring. Let's fast forward to the exciting part.
[during the BORING PART, he buys a RABBIT for his little girl, which subsequently gets COOKED by Glenn Close, and his WIFE almost gets KILLED by cut BRAKE LINES, and he TELLS his wife and she FORGIVES him]
Anne Archer:
I'm so glad we live in the country and all that mess is behind us. I'm going to take a relaxing bath.
[Glenn Close APPEARS in the mirror BEHIND HER]
Glenn Close:
YOU CAN TELL I'M CRAZY BECAUSE I KEEP CUTTING MY OWN LEG WITH THIS HUGE KNIFE. BUT SOON I WILL CUT YOU WITH IT.
Anne Archer:
No!! My hair is bigger than yours!! I will triumph!
Michael Douglas:
La, la, la...makin' tea. Can't hear the knife fight going on upstairs because this teakettle whistles too loudly! WAIT A MINUTE...
[he RUNS upstairs and DROWNS Glenn Close in the TUB]
Michael Douglas:
That was surprisingly eas--
Glenn Close:
AAAAAAAAAAAAAAAA!!!
Anne Archer:
[SHOOTS her in the HEAD and it is AWESOME]
Michael Douglas:
Huh. Maybe women
are
good for something other than sex and mothering.