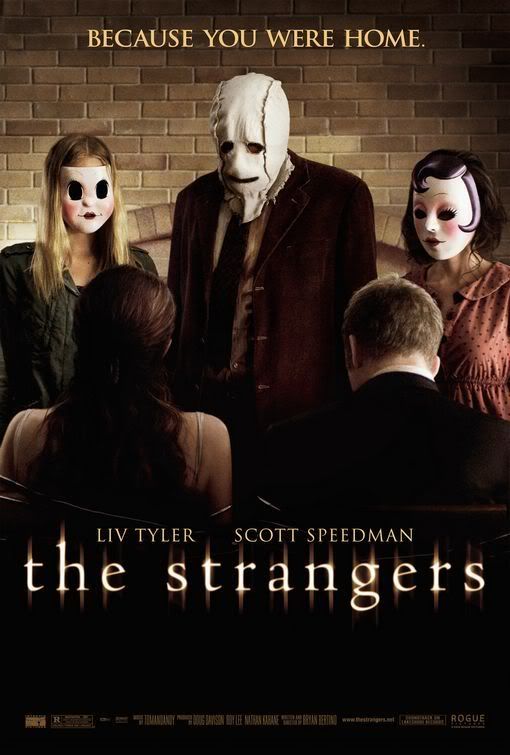 [it is THE MIDDLE OF NOWHERE]
Liv Tyler:
Sorry I rejected your proposal. The rose petals strewn about are really awkward now.
Scott Speedman:
Whatever.
[they MOPE around for, like, TWENTY MINUTES and then SUDDENLY decide they want to BONE for some reason, but there is an OMINOUS KNOCK at the door]
Girl:
Is Tamara here?
Liv Tyler:
No.
Girl:
ARE YOU SURE? AM I TOTALLY CREEPING YOU OUT NOW?
Live Tyler:
Yes. To both.
[they are WEIRDED OUT]
Liv Tyler:
I'm out of cigarettes.
Scott Speedman:
I'll get you some. Stay here in the house alone.
[some SCARY SHIT happens and her CELL PHONE ends up in the FIREPLACE and there are OBVIOUSLY people in the HOUSE because you SEE them and it is SUPER FREAKY]
Liv Tyler:
THERE'S SOMEONE HERE!!
Scott Speedman:
You're clearly being irrational. Let me discount your feelings entirely.
[he is PROVEN WRONG when SCARY SHIT starts happening AGAIN and their CAR gets COMPLETELY FUCKED so they CAN'T LEAVE]
Liv Tyler:
James! JAMES! JAAAAMES! WE NEED A GUN!!!
Scott Speedman:
I'm not sure I even know how to load this thing.*
Liv Tyler:
But you said you used to hunt with your dad.*
Scott Speedman:
That was just something I said.*
[they HIDE in the BEDROOM and WAIT for the MASKED STRANGERS to come so they can SHOOT them]
Scott Speedman's BFF:
[on phone] Yo! I'm here, man! To pick you up! He's not answering his phone, so I'll just go inside, where the music is blaring, and not announce my presence at all. That's the best plan I've ever ha--
[Scott Speedman FUCKING SHOOTS him right in the HEAD and it is AWFUL]
Scott Speedman:
I'm going to go to the barn and try the radio.
Liv Tyler:
Jaaaaaaaames! JAMES! JAMES!
[she FOLLOWS him and BUSTS her LEG and the MASKED STRANGERS continue to CHASE them OUTSIDE for, like, HALF an HOUR]
Lady in the Audience:
You BETTA turn around!!
[finally, they get CAPTURED and TIED UP and they put Liv Tyler back in her DRESS for some reason]
Liv Tyler:
WHY ARE YOU DOING THIS???*
Stranger:
Because you were home.*
[they remove their MASKS and KILL them with KNIVES]
Stranger:
Can I have a pamphlet, little Christian boy?
Boy:
Are you a sinner?*
Stranger:
Sometimes.*