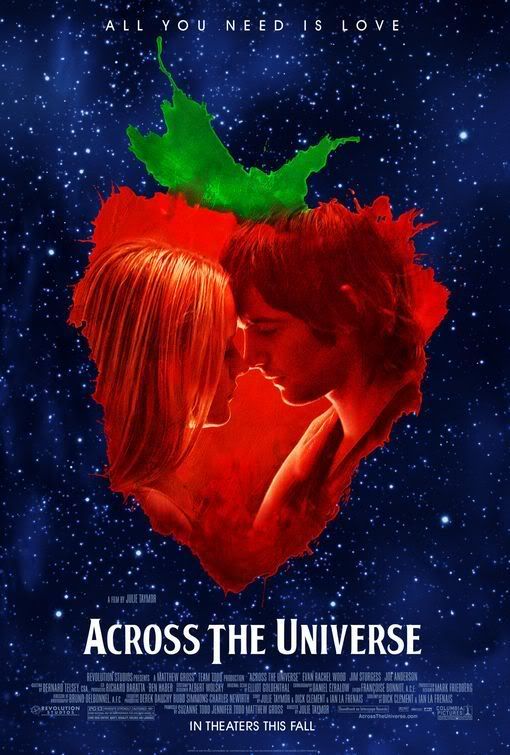 They say if you can remember the 1960's, then you weren't there.

Laura McClain

sure wasn't.
~~~~~~~~~~~~~~~~~~~~
[it is the TURBULENT 1960's]

Jim Sturgess: I shall sit on this wintry beach and think about my lost love.

[he HAUNTINGLY sings a VERSE from a Beatles SONG, and LOOKS like the LOVE CHILD of John Lennon and Paul McCartney]

[it is the EARLIER, less-turbulent 1960's]

Evan Rachel Wood: Everything is so idyllic here in my upper-class suburb! I shall miss you when you go into the army, boyfriend, but I am proud of your patriotism!

[she SINGS an EARLY Beatles SONG to INDICATE her NAIVETY]

Jim Sturgess: I have to go to America. Hopefully I won't lose my adorable Liverpool accent!

Liverpool Girlfriend: You will never return.

Jim Sturgess: Um…I TOTALLY will.

[he SINGS a Beatles SONG about LOVE, somewhat INSINCERELY]

Jim Sturgess: Time to meet my estranged father for some reason.

Estranged Father: Sorry, I didn't know you existed. A soldier's gotta get his kicks somehow!

Jim Sturgess: Word. No biggie.

Joe Anderson:
Hey, scruffy Englishman. You represent the kind of free spirit I wish I could be. Come hang out with my preppy yet mischievous Princeton pals!
[they SING "With a Little Help From My Friends" while CREATING a very LITERAL music video]

Joe Anderson: Come home for Thanksgiving and meet my family, including my super-cute sister.

[they MEET and BOND over TEETH and FAMILY DYSFUNCTION at the BOWLING ALLEY]

Jim Sturgess: Now I love her.

[it is the TURBULENT South]

Martin Luther McCoy: My little brother died in a race riot while singing "Let it Be." How depressing. I will move to New York armed with my acoustic guitar.

[he WALKS the STREETS to the STRAINS of "Come Together" and is AMUSED by DANCING BUSINESSMEN and SINGING PIMPS and WHORES]

Jim Sturgess:
I'm so glad we moved to New York, best friend!
Joe Anderson:
Dropping out of Princeton was the best choice I ever made!
[they MOVE into a SWEET boho LOFT run by Joan Osborne's DOPPLEGANGER]

T.V. Caprio: Hey, can I move in to? Some guy beat me up, though I am a lesbian, as evidenced by that time I sang "I Wanna Hold Your Hand" to a cheerleader.

"Joan Osborne": Where did you come from?

Jim Sturgess: She came in through the bathroom window.*

[MEANWHILE, back in SUBURBIA]

Evan Rachel Wood: La la la…I love riding my bike innocently….who's that uniformed Army man at my door?

[her CUTE Army BOYFRIEND is DEAD and it is SAD]

Evan Rachel Wood: I must escape to New York!

[she DOES and REUNITES with Jim Sturgess in a SWEET fashion]

Jim Sturgess: Let's sit by the river and talk about death and the a-changing times.

Evan Rachel Wood: Now I love you.

[they SHARE the DEEPEST tongue-kiss EVER]

Joe Anderson: My ass got drafted. Guess dropping out of Princeton wasn't such a good idea after all.

[he BURNS his DRAFT CARD but STILL goes to the ARMY office where UNIFORMED robot-men EXAMINE him in an awesome DANCE NUMBER]

Evan Rachel Wood: Let's go to one last bitchin' party before you get drafted, beloved brother.

[they go to a TRIPPY party where BONO sings "I Am the Walrus" and they all DROP ACID]

Bono: Come on my love bus!

[they RIDE on a BUS and it is WEIRD]

Bono: Now we're in California, somehow! Bye kids!

[they FIND a TENT and Eddie Izzard PERFORMS "Being for the Benefit of Mr. Kite" and it makes NO FUCKING SENSE]

Everyone: Woo! Free love!

[now that DRUGS have been SUFFICIENTLY covered, they GO BACK to WAR STUFF]

Evan Rachel Wood: I must get involved in the anti-war movement!

Jim Sturgess: But….remember the free love part? Where we just laid around and made out all day? Don't you want to do that instead?

Evan Rachel Wood: No, I'm good with the whole social justice thing. But thanks.

[he SULKS like a BITCH and then MAKES a SCENE at the WAR-PROTESTING place while SINGING "Revolution"]

Evan Rachel Wood: Our love cannot survive my political activism!

[they BREAK UP and it is SAD]

Joe Anderson: Hey remember me? From the war? I went nuts.

[he LIES in a HOSPITAL bed and HALLUCINATES that Salma Hayek is his NURSE]

Everyone: The sixties are filled with angst!

[there is a WAR protest and Jim Sturgess gets ARRESTED and DEPORTED cause he's been an ILLEGAL IMMIGRANT the whole MOVIE]

Jim Sturgess: Well, back in Liverpool. Might as well get drunk.

[he GOES to a BAR and FANTASIZES about Joe Anderson SINGING "Hey Jude" which EMBOLDENS him to go BACK to America, as it is his CHARACTER'S name]

Joe Anderson: Hooray! I will take you to this rooftop in our final homage to the Beatles.

[they ALL sing "All You Need is Love" and Evan Rachel Wood HEARS it from the STREET and CLIMBS to the ROOF of the BUILDING next door while STARING at Jim Sturgess
POIGNANTLY]

Everyone: All you need is love! Aren't you jealous that you missed the sixties?