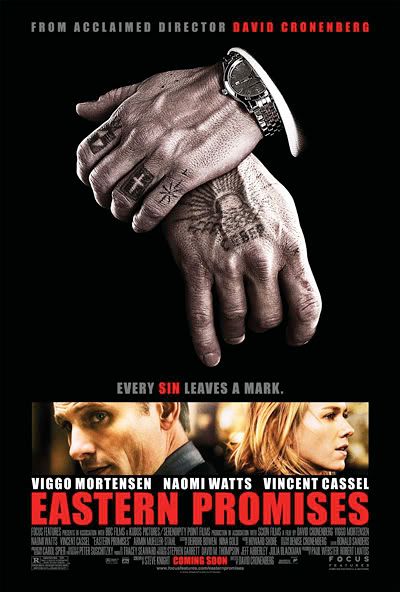 [it is LONDON]
Crazy Russian Mafia Barber: Do it, my child.
Retarded Nephew: I can't!
CRMB: DOOOOO IIIIIIIITTTT!!!
[the nephew SAWS INTO this dude's THROAT, in a STUNNING DISPLAY of how NEVER to slit a THROAT]
[MEANWHILE, in a HOSPITAL]
Naomi Watts: Oh dear. This pregnant teen has died during childbirth. Though I am a nurse and presumably see this kind of thing frequently, this particular girl has touched my heart. I shall steal her diary and find out what she was like.
[she tries to TRANSLATE the diary but can't read RUSSIAN, so she goes to the RESTAURANT whose business card is CONVENIENTLY in the DIARY]
Armin Mueller-Stahl: Hello, welcome to my mafia fron-I MEAN, my restaurant. Oh, a diary of someone I don't know AT ALL. Seriously, I have never ever heard of this girl IN LIFE. Why don't you just…um…leave it here? I'll take care of everything.
Naomi Watts: For some reason, I do not trust you. I'll get my crazy Russian uncle to translate it.
Viggo Mortensen: Want to go for a drink? After all, I am an extremely hot Russian with amazingly coiffed hair.
Naomi Watts: No, thank you, I have no taste in men, apparently.
[she GOES HOME and has her CRAZY UNCLE translate the DIARY, which contains MANY SCANDALOUS SECRETS, including the fact that the RUSSIAN MAFIA LEADER is the baby's FATHER]
French Dude from Ocean's Twelve: Viggo! I had someone killed and now I need you to help me dispose of the body. Also, I am clearly in love with you, because you are irresistible to both men and women.
Viggo Mortensen: Yes, I am. [he HACKS off some FINGERTIPS]
Naomi Watts: I want to do the right thing. I'm so conflicted! That highly untrustworthy old man said he would give me the girl's address if I gave him the diary. Perhaps he will send the attractive driver to do the exchange.
[they meet in a LONDON VERSION OF DENNY'S to TRADE but she is BETRAYED and does not get the ADDRESS]
Naomi Watts: Why did I trust you??? And why are you so magnetic??
[MEANWHILE, in a WHOREHOUSE]
French Dude from Ocean's Twelve: Prove you're not gay. Fuck that whore. I require proof of non-gayness from all the men I am in love wi—I mean, my friends.
Viggo Mortensen: Okay, but I will be gentle and give her a lot of money afterward. I am a nice gangster.
[MEANWHILE, in a LOADING DOCK]
Crazy Russian Mafia Barber: Some guys want to kill me! Can I surrender your son instead? I figured it never hurts to ask…
Armin Mueller-Stahl: I have an idea…
[they DEVISE a PLAN that involves SACRIFICING Viggo instead of the SON]
Armin Mueller-Stahl: Okay, you are in the gang officially now! Here's your tattoos and your first two assignments: take care of that girl's crazy uncle and go meet this other dude in a bathhouse.
Viggo Mortensen: Okay, but only if I may battle him naked.
Armin Mueller-Stahl: You may. Also, please get rid of that prying uncle.
Viggo Mortensen: [aside] Good thing he doesn't know I am actually a double agent, or I'd really be in for it...
[he gets in a KNIFE FIGHT and is TOTALLY NUDE, but SOUNDLY THRASHES the other, CLOTHED men]
Naomi Watts: Hey, where's my uncle?

Viggo Mortensen: I am going to phrase this in the most enigmatic way possible so that suspense continues as long as possible: I have taken care of it.
[the BABY gets SPIRITED AWAY from the HOSPITAL somehow, though she is in a BABY ROOM with nurses ALL AROUND]
Naomi Watts: Gah! The baby! We must find her!
Viggo Mortensen: I know where the best place to get rid of bodies is...I showed it to that gay gangster's son before. Let us speed there on your moped.
[they STOP the GAY DUDE right before he puts the BABY into the RIVER]
French Dude from Ocean's Twelve: You stopped me from doing a terrible thing! Hold me!
[they SERIOUSLY LOOK like they are about to MAKE OUT, but DON'T]
Naomi Watts: I'm so glad you saved this baby, but however shall I get it home with only a moped?
[MONTHS later]
Naomi Watts: Hooray! I have a baby!
Her Uncle: Hooray! I was in Scotland, though you thought I was killed.
Viggo Mortensen: Hooray! I got the Mafia boss arrested and am now the leader of the crime syndicate, though I actually work for Scotland Yard.