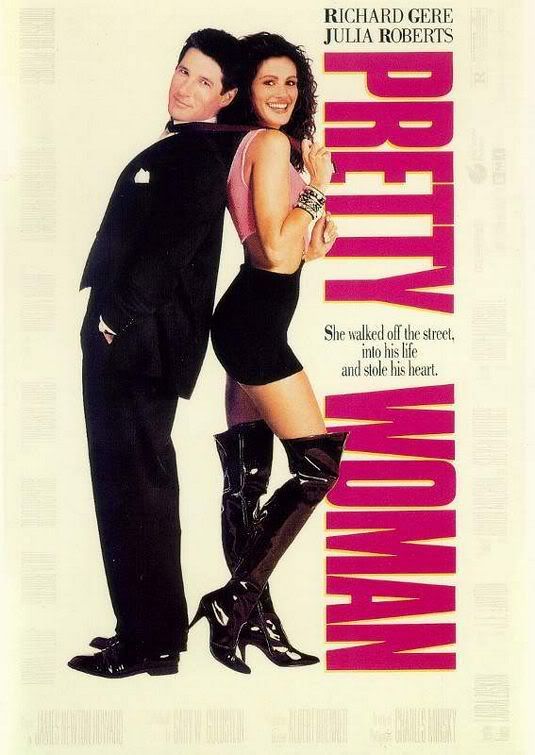 [it is HOLLYWOOD, where everyone got a DREAM]
Julia Roberts:
This hard-knock life of hooking sure is lame. Fortunately, I haven't succumbed to any sort of addiction and still cling to my dreams of being rescued on a white horse.
Laura San Giacomo:
Girl, cut that shit out. Let's go eat some garnishes.
[they ENCOUNTER Richard Gere in his borrowed LAMBORGHINI]
Richard Gere:
I lost my wife, my girlfriend, my apartment, and my dog. And I can't even drive this car.
Julia Roberts:
I'll show you how, baby...for the right price.
[she DRIVES him to the Reg Bev Wilt Hotel, where they WATCH
I Love Lucy
, eat STRAWBERRIES and CHAMPAGNE and DON'T kiss on the MOUTH]
Richard Gere:
Tell ya what...I'll pay you $3000 to hang out with me for a week and buy you all sorts of fancy clothes.
Julia Roberts:
[SINKS into BATHWATER with GLEE]
Hector Elizondo:
What are you doing here?!! You must be Richard Gere's...niece?
Julia Roberts:
Uh, yeah...that's why I'm wearing this spandex dress and thigh-high boots that every girl secretly wishes she had and could pull off. But I can, bitches. I can!!
[she goes SHOPPING on Rodeo Drive, where the SALESWOMEN are totally MEAN, but she gets a COCKTAIL DRESS later]
Julia Roberts:
You work on commission, right? Big mistake. Big. HUGE.*
Richard Gere:
Let us go to the opera. Somehow, I think you will enjoy it, though no one actually really enjoys opera.
[she PEES her PANTS because the opera is SO AMAZING]
Jason Alexander:
I see your game, Gere. She's a dirty whore!! Share! Share!
Julia Roberts:
I am not a whore! Look at my brown dress with white polka dots! This is not a whore's dress! Not anymore!
Richard Gere:
Well, the week's up. See ya.
Julia Roberts:
You have changed my life, rich man. Now I dress in Casual Corner separates and want to attend dental hygenist school. This is truly the American Dream.
[he RETURNS in a LIMO with FLOWERS, because all girls, even EX-WHORES, want to be RESCUED now and then]
Julia Roberts:
Aren't you afraid of heights?
Richard Gere:
Shut up.
[they live HAPPILY EVER AFTER. with HERPES]