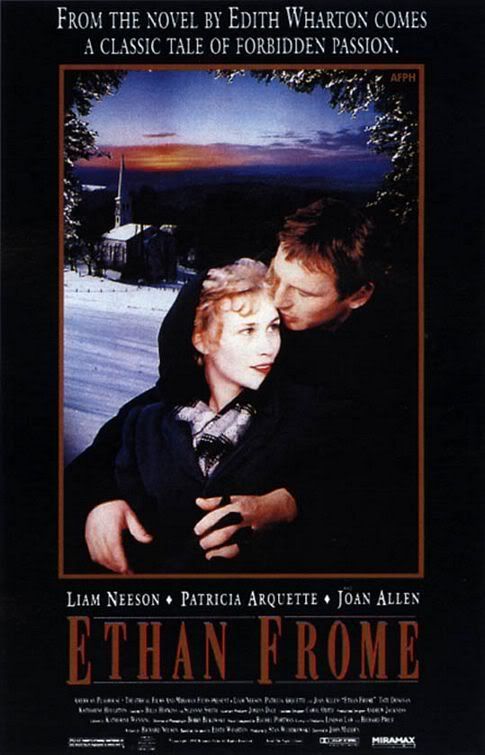 I read this book, and saw the movie, in high school and loved it. My teacher, Mrs. Hunter, who was the coolest ever, touted the knitting scene as "the hottest scene in a film, ever." She might be right...it's pretty hot.
~~~~~~~~~~~~~~~
[it is OLD-TIMEY NEW ENGLAND]
Joan Allen:
I'm an invalid! And your wife! Now you're stuck with me!!!
Liam Neeson:
Dammit…I hate my life. I just wish someone would come into my life to shake things up and make me feel alive again.
[a TRAIN arrives bearing a TOTALLY HOT maid who will care for his INVALID WIFE]
Patricia Arquette:
Sup, small town
New England
.
Townspeople:
Hubbub! Hubbub! This will surely disrupt our pastoral way of life.
[many GRANITE OUTCROPPINGS are shown to indicate the DEPTH of Liam Neeson's SOUL]
Liam Neeson:
What is this…feeling I feel? Something in my chest, my loins…I cannot control myself!!
Patricia Arquette:
I am trying to knit. Please stop fondling my knitting in such a libidinous manner!
Joan Allen:
Remember me?!? The INVALID?! Bring me my red pickle dish, the one that represents my marriage.
[Patricia Arquette brings her the RED PICKLE DISH and BREAKS it "accidentally" in a stunning act of SYMBOLISM]
Joan Allen:
Nooooooo!!
Liam Neeson:
I can no longer hide my feelings for you. Since this is a movie, we must now have sex, although that totally didn't happen in the book.
[they DO IT]
Joan Allen:
Nooooooo!!! My mysterious disease is getting worse!!
Liam Neeson:
Okay, she's, like, NEVER going to die, because she's totally a hypochondriac. What say we sled down a hill and kill ourselves?
Patricia Arquette:
That sounds like it will end in disaster, but okay.
[they TRY, and FAIL, to commit EXTREMELY ROMANTIC SUICIDE]
Liam Neeson:
Shit! We're alive and horribly crippled!
Patricia Arquette:
Noooooooo!!!
Joan Allen:
Oh, how the tables have turned! Now I must care for you and make you regret all of the choices you made. Hahahahaha!
[they all live MISERABLY together, as New Englanders are WONT to do]