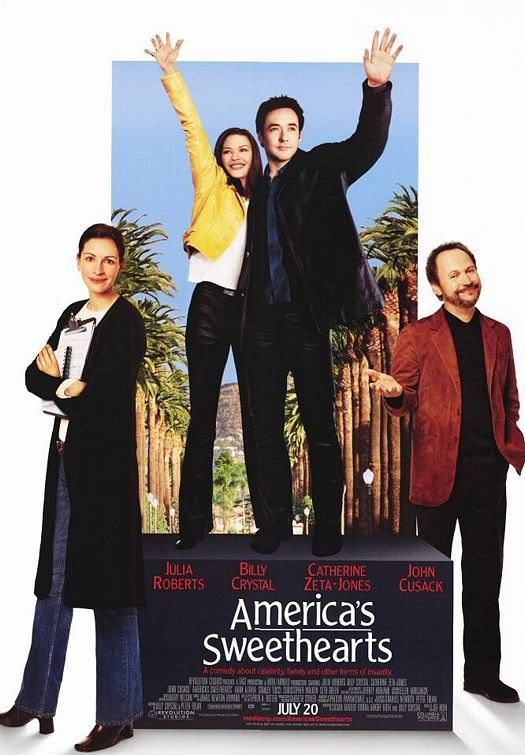 This post was inspired by a conversation after the previous post between my frequent guest writer and me:
me: all i can think of when i think of diane lane is "must love dogs"
Laura: ooof
that sounds so painful
me: it is like the gold standard of badness when my sister talks about movies
Laura: wow
that's "america's sweethearts" for me
another john cusak nightmare
me: OH MY GOD
NIGHTMARE
Laura: my eyes
MY EYES!!!!
me: i wanted to burn my eyes and ears with drano
Laura: yes
agreed
i remember nothing
except the fat suit
oh god
the PAIN
I blocked a lot of this movie out of my memory, so forgiveness, please, if it's spotty.
~~~~~~~~~~~~~~~~~~~~~~~~~~~~~~~~
[it is HOLLYWOODLAND]
John Cusack: I am a movie star, though a reluctant one. Can't I just be a regular guy?
Catherine Zeta-Jones: I am too glamorous and beautiful for you! Come, my latin lover!
Hank Azaria: Let me pull out my Stereotypical Latino Macho Man character. Si!
Billy Crystal: So I knooooow you've broken up, you two, but I really need you to do this press thing, because the director is crazy.
Christopher Walken: CRAZY!!
Billy Crystal: See? Hold on a second while I make a sexual innuendo joke involving this German shepherd. Gross…but HILARIOUS!!
[they all CONVENE at some HOTEL where the PRESS CONFERENCE is going to HAPPEN and HIJINKS can ensue]
Julia Roberts: I used to be fat, so now I have self-esteem issues, and can only serve my beautiful, glamorous sister.
John Cusack: Now that you are not fat, I think I may love you.
[they HOOK UP and it is SCANDALOUS]
Billy Crystal: Oh no! Bad things are happening! I shall make wisecracks in the hopes that those wisecracks will solve all my problems! Help me, Assistant Seth Green!
[Seth Green gets HIT in the HEAD and it is HILARIOUS]
Christopher Walken: Now I shall screen my movie, for the first time ever, at this press conference! YOU'LL SEE!! YOU'LL ALL SEE THE TRUTH!!!
[plays the MOVIE, which is actually just SECRET FOOTAGE of the actors when they're NOT ACTING, exposing Catherine Zeta-Jones as a RAGING BITCH]
Catherine Zeta-Jones: Nooooooooooo!!!
[she STORMS out with her LATIN LOVER in tow]
John Cusack: Now I can publicly break up with her and get with the no-longer-fat sister. Hurrah!
Julia Roberts: I'm not fat! Or a raging bitch! Hurrah!