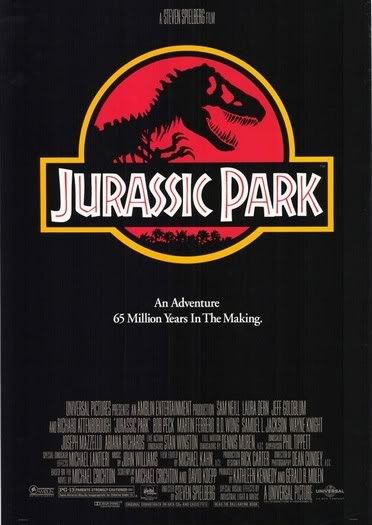 [it is the 1990s]
Laura Dern: OMG, Honey! This scientist has something amazing – and SECRET – on this island! Let's go! Also, can we please have kids?
Sam Neill: I have a really bad feeling about this. I hope it's not something dangerous and possibly unethical, albeit REALLY AWESOMELY scientifically advanced. And no. On the kid thing.
[they GO to some island in a HELICOPTER, which SCARES Sam Neill and shows his VULNERABLE side]
Richard Attenborough: Welcome! Welcome! I am avuncular and jolly! I love people! I love science! Hooray for my island?
Sam Neill: What's so special about this stup – WHAAA?
[a HUGE PLANT-EATING DINOSAUR walks up]
Richard Attenborough: That's right, bitches! DINOSAURS!
Jeff Goldblum: I, hmm, I don't know [inhales DEEPLY] about this idea, because, well, the chaos theory and butterflies, and DAMN, Laura Dern, you are looking like one fine-ass paleobotanist to me!
Little Boy and Teen Girl: We like you, Sam Neill!
Sam Neill: [grumble]
[back at the TECHNOLOGY CENTER that controls EVERYTHING on the WHOLE ISLAND]
Newman: Hahahahaha!! I'll steal these dinosaur embryos and sell them! Suckers!!
[he CUTS the POWER]
Samuel L. Jackson: Hold on to your butts.*
[he tries SOME PLAN to REBOOT the park, but the POWER remains OUT]
T-Rex: Raaaarrrrrrrrr! No more electrified fences!! Raaaarrrrrrr!
[she ATTACKS the CAR that Sam Neill and the kids are in, and they have to ESCAPE]
Laura Dern: Nooooooooo!
Crazy Australian Dinosaur Wrangler: We're being hunted.*
Raptor: [gazes CUNNINGLY at him]
Crazy Australian Dinosaur Wrangler: Clever girl.*
Laura Dern: [running GIMPILY] AAAAAAAAA!
[she TURNS the power back ON just as the little boy is climbing the ELECTRIFIED FENCE]
Sam Neill: I will save you!
[he DOES]
Teen Girl: You're so dreamy!
[meanwhile, ELSEWHERE]
Newman: I'm lost!
Dinosaur That Spits Poison Tar or Something: Sssssssssssss!!! Die!!
Newman: Oh no! My comeuppance!
[Sam Neill, Teen Girl and Little Boy RETURN to the VISITOR CENTER and get CHASED in a KITCHEN and also in the TECHNOLOGY CENTER THING PLACE by the RAPTORS]
T-Rex: Rarrrrrr! Mmmmmm! Raptors!
[she EATS one]
Other Raptors: Bitch, don't MAKE me take off my earrings!
[they FIGHT, but obviously the T-REX wins because it's the MOST AWESOMEST** DINOSAUR EVER]
Sam Neill: Can we please go back to the mainland and never speak of this again?
Producers of the film: Yeeeahhhh…no. Sequels. Sorry.
[ba-da-da BAH BAH, ba-da-da BAH BAH, ba-da-da-ba BAH DAH BAAAAAAH]

*actual line from film
**statement unconfirmed at press time. Triceratops may be awesomer.