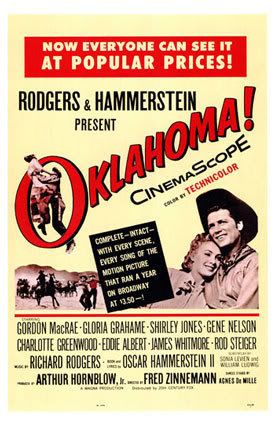 [it is, appropriately, OKLAHOMA]
Curly: "Oh, what a beautiful morning" for me to go riding along the open spaces of this wonderful state. Surely no bad thing could befall me.
[he goes to AUNT ELLER'S FARM]
Aunt Eller: I am old and sassy! Do not try to cross me!
Curly: Why, hello there, Laurey. Might I tempt you with a ride in my "surrey with a fringe on top"?
Laurey: You're lame. Get lost. But by "lame," I mean "hot," and by "lost," I mean "in my bloomers."
Pore Jud Fry: LAUREY WILL YOU GO TO THE DANCE WITH ME I LOVE YOU
Laurey: Ha ha! That'll show that cocky cowboy! I'll go to the dance with this extremely menacing man!
[meanwhile, at the DEPOT]
Will: I just got back from "Kansas City"! You know, everything is up to date there. Allow me to elaborate about all the modern inventions they have, in song.
[he DOES, but not in a GAY* WAY]
Ado Annie: I'm glad you're back, but listen...I think I might love this racial stereotype peddler dude. I mean...I am just a girl who "cain't say no."
Will: Goldurnit!
[meanwhile, back at the RANCH**]
Laurey: La, la, la! Getting ready for the dance is so fun! I love dancing in my underwear!
Random friends: Laurey, why are you going to the dance with gross Jud instead of hunky Curly?
Laurey: Oh, you hush. "Many a new day" will dawn before I get married. Until then, I'm going to go out with as many sort-of-terrifying ranch hands as possible.
Ado Annie's Dad: Girl! You gotta marry the peddler! You have sullied my family name!
Ali Hakim: Yes, I know. Seriously, my name is actually Ali Hakim. I don't want to marry her.
"It's a scandal" to think that I could be goaded into such a thing!
Curly: Okay, seriously? You need to go to the dance with me.
Laurey: Have you seen Jud Fry? He is scary. I can't tell him I don't want to go with him. Plus, if I go with you, "people will say we're in love."
Curly: Hey, Jud...why don't you kill yourself? Then everyone will be all "pore Jud is dead" and be all sad and stuff.
Pore Jud Fry: I AM STILL GOING TO THE DANCE WITH LAUREY, JACKASS
[there is a RIDICULOUSLY LONG BALLET in which Curly is revealed as Laurey's true love]Aunt Eller: Time fer the dance! Now, no fightin', y'hear? "The farmer and the cowman should be friends."
[they all go to the DANCE and some SHENANIGANS happen]
Ado Annie: Yay! Now I can marry Will!
Ali Hakim: Yay! Now I don't have to marry that annoying bitch!
Curly: Yay! Now I can marry Laurey!
Laurey: Yay! Now I can marry Curly!
Pore Jud Fry: I HATE YOU ALL
[he FALLS on his own KNIFE but it's not Curly's FAULT]
Curly: Yay! I'm not guilty!
Everyone: Yay! We live in OKLAHOMA!!!

*okay, it's pretty gay.
**literally