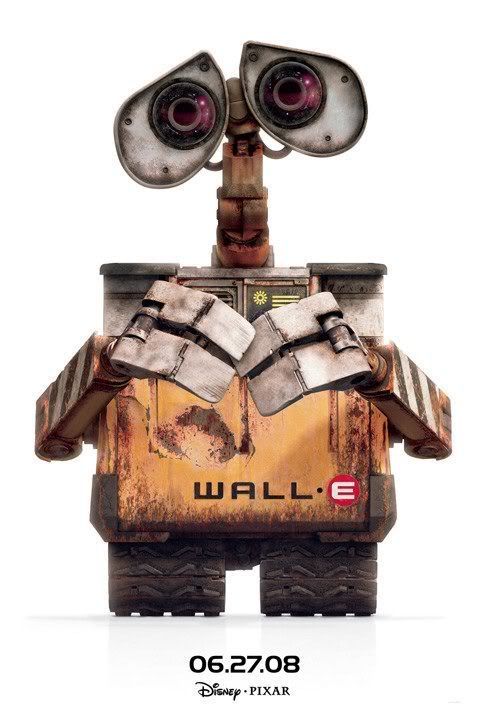 [it is FUTURE EARTH]
Wall-E: [rocks out to HELLO DOLLY while picking up INTERESTING JUNK in an ADORABLE MANNER]
Fred Willard: Hi! I'm some convenient exposition! The earth is majorly fucked up! We're getting out of here while the robots clean it up, but only for five years!
Huge Spaceship: FOOOOOOOMMM!! I AM LANDING!!!
Eve: [zooms around looking for PLANTS and BLOWING SHIT UP]
Wall-E: [GAZES at her LOVINGLY, though he is a ROBOT]
Eve: [sees Wall-E and is CONCERNED, then TRUSTS him]
Wall-E: [gives Eve a PLANT and shows her some HELLO DOLLY]
Eve: [SHUTS DOWN because she has met her DIRECTIVE]
Wall-E: [gets SCARED that Eve is DEAD or DEACTIVATED or whatever ROBOTS get]
Huge Spaceship: FOOOOOOOOMMMM!! I AM BACK TO GET EVE!!!
Wall-E: [STOWS AWAY on the SPACESHIP, cutely]
[meanwhile, on the EVEN HUGER SPACESHIP]
Every Human: I am fat and ride around on a floating thing all day. Look how fat we are. Fat, fat, fat.
Wall-E: [follows Eve to the CAPTAIN'S DECK, adorably]
Jeff Garlin: Hey! You have a plant! Sweet! We can go home if we put the plant in the holodeck!
Autopilot: There is no plant. This unit is defective.
[Wall-E and Eve go to the ROBOT HOSPITAL with all the DEFECTIVE robots and SHENANIGANS ensue]
Alert Screen: CAUTION! ROGUE ROBOTS!!!
[Wall-E and Eve get shot out of the SPACESHIP and fly around for like 10 MINUTES and then go BACK IN]
Pixar Animators: We. Are. The. Fucking. Shit.
Jeff Garlin: The autopilot is trying to sabotage us!
[he WALKS and everyone is like DAMN because they have like NO BONES]
Wall-E: [sacrifices HIMSELF for the good of ALL]
Eve: WALL-EEEEEEEEEEE!
[they go to EARTH in like 1 second]
Eve: [finds the PARTS to FIX Wall-E because she LOVES him, though, again, they are ROBOTS]
Wall-E: [does not REMEMBER anything at first because he has a new MOTHERBOARD but then he DOES and it is CUTE]